Cosmetic Dentist Blog
Posts for tag: tooth decay
By Warren Gase, D.D.S.
May 17, 2016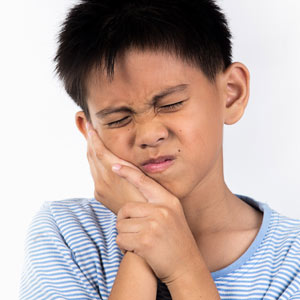 What should you do if your child complains about a toothache? Before calling our office, try first to learn what you can about the toothache.
You should first ask them where exactly the pain is coming from — one particular tooth or a generalized, dull ache. Also try to find out, as best they can tell you, when they first noticed the pain. Try then to look at the tooth or area where they indicate the pain is coming from: since tooth decay is a prime cause for tooth pain, you should look for any obvious signs of it like brown spots or cavities. You should also look at the gums around the teeth for any redness or swelling, a sign of an abscess or periodontal (gum) disease.
If you notice any of these signs, the pain persists for more than a day, or it has kept the child awake during the night, you should have us examine them as soon as possible. If you notice facial swelling or they're running a fever, please call and we will see them immediately. If it's definitely tooth decay, it won't go away on its own. The longer we wait to treat it, the worse its effects in the mouth.
In the meantime, you should also try to alleviate the pain as best you can. If when looking in the mouth you noticed food debris (like a piece of hard candy) wedged between the teeth, try to gently remove it with dental floss. Give them ibuprofen or acetaminophen in an appropriate dosage for their age to relieve pain, or apply an ice pack on and off for about 5 minutes at a time to the outside of their jaw.
If any of these remedies stops the pain within an hour, you can wait until the next day to call for an appointment. If the pain persists, though, then an abscess could be developing — you should call that day to see us.
Regardless of when the pain stops, or whether you see any abnormal signs, it's still important your child see us for an accurate diagnosis. Their toothache maybe trying to tell you something's wrong — and the earlier a problem is found and treated, the better the outcome.
If you would like more information on dental problems in young children, please contact us or schedule an appointment for a consultation. You can also learn more about this topic by reading the Dear Doctor magazine article "A Child's Toothache."
By Warren Gase, D.D.S.
January 13, 2015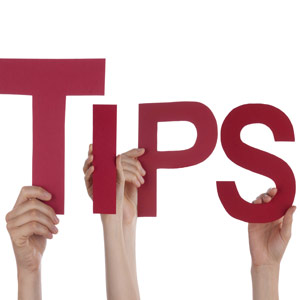 Most often, all of your child's primary teeth will eventually be replaced by permanent teeth, but you shouldn't consider them less important — there are serious consequences for losing a primary tooth prematurely. Besides providing a means for a child to chew food and speak clearly, primary teeth also save space for the permanent teeth to erupt; a premature loss could lead to malocclusions (bad bites) that may result in costly orthodontic treatment later.
That's why it's important to fight tooth decay in primary teeth. By keeping them healthy and in place until it's time for their departure, their permanent replacements have a better chance of erupting into their proper positions.
Here are 4 tips for preventing tooth decay in primary teeth:
Begin daily oral hygiene when teeth first appear. Begin brushing with fluoride toothpaste as soon as the first primary teeth come in. Brushing removes bacterial plaque, the primary cause of tooth decay, and fluoride strengthens enamel. Because they tend to swallow toothpaste rather than spit it out, use just a smear of toothpaste for infants and toddlers, and a pea-sized amount for ages two and older.
Start regular dental visits by the child's first birthday. By beginning regular checkups around age 1, we'll have a better chance of discovering developing tooth decay or other problems early. You're also setting a good foundation for what should be a lifelong habit for optimum dental health.
Limit sugar consumption. The oral bacteria that cause tooth decay feed on leftover carbohydrates like sugar, so you should limit intake especially between meals. One culprit to watch out for: a bedtime bottle filled with formula, milk or fruit juices, all of which contain carbohydrates (sugar). Water or no bottle at all is a better alternative.
Consider topical fluoride or sealants for extra protection. In some circumstances, we may advise protecting the enamel of newly erupted teeth with an applied sealant. These protective coatings fill in porous pits and fissures in young teeth to deny access to disease. Supplemental fluoride will further strengthen young tooth enamel.
Taking these measures and remaining vigilant to the first signs of decay can go a long way toward preserving your child's teeth. Their future oral health depends on it.
If you would like more information on dental care for children, please contact us or schedule an appointment for a consultation. You can also learn more about this topic by reading the Dear Doctor magazine article "Dentistry & Oral Health for Children."
By Warren Gase, D.D.S.
March 18, 2014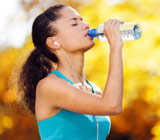 If you or your family has an active sports lifestyle, you probably already know the importance of food and liquids for energy and hydration. But what you eat and drink (and how often) could unintentionally increase your teeth's susceptibility to tooth decay. With that in mind, you should plan your nutrition and hydration intake for strenuous exercise to maximize energy and reduce the risk of tooth decay.
On the general health side, carbohydrates are your main source of energy for sports or exercise activity. You should eat a substantial carbohydrate-based meal (such as pasta, cereal or sandwiches) a few hours before a planned event. An hour before, you can snack on something easily digestible (avoiding anything fatty) to prevent hunger and as additional energy fuel.
It's also important to increase your liquid intake before strenuous activity to avoid dehydration, usually a couple of hours before so that your body has time to eliminate excess fluid. During the activity, you should drink three to six ounces of water or sports drink every ten to twenty minutes to replace fluid lost from perspiration.
While water is your best hydration source, sports drinks can be helpful — they're designed to replace electrolytes (sodium) lost during strenuous, non-stop activity lasting more than 60 to 90 minutes. They should only be consumed in those situations; your body gains enough from a regular nutritional diet to replace lost nutrients during normal activity.
In relation to your oral health, over-consumption of carbohydrates (like sugar) can increase your risk of tooth decay. The acid in most sports drinks also poses a danger: your teeth's enamel dissolves (de-mineralizes) in too acidic an environment. For these reasons, you should restrict your intake of these substances — both what you eat and drink and how often you consume them. You should also practice regular oral hygiene by brushing and flossing daily, waiting an hour after eating or drinking to brush giving your saliva time to wash away food particles and neutralize the acid level in your mouth.
Knowing what and when to eat or drink is essential to optimum performance and gain in your physical activities. Along with good oral hygiene, it can also protect your oral health.
If you would like more information on the best sports-related diet for both general and oral health, please contact us or schedule an appointment for a consultation. You can also learn more about this topic by reading the Dear Doctor magazine article "Nutrition for Sports."