Cosmetic Dentist Blog
Posts for: January, 2014
By Warren Gase, D.D.S.
January 23, 2014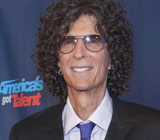 Is there anything that radio and TV personality (and self-proclaimed "King of All Media") Howard Stern doesn't want to talk about in public? Maybe not — but it took a caller's on-air question to get the infamous shock jock to open up about his own dental work.
When he was directly asked if his teeth were capped, Stern said no. "I redid 'em [some time] ago… I had bonding and um… veneers… over my real teeth. But I don't get that 'Hollywood white' though," he said, before adding his uncensored opinion on the subject of proper tooth shades.
As we're sure Stern would be the first to point out, everyone has a right to their own opinion. But we're pleased that Howard brought up an important point about veneers: They are custom-made in a whole range of different shades, from a more 'natural' tooth color to a brilliant white shine. Which one you select depends on what look is right for you — and that's your choice.
In case you aren't familiar with veneers, they are fingernail-thin coverings made of porcelain, which are bonded onto the surfaces of the teeth. This enables them to hide a number of defects — like chips, discoloration, and even small irregularities in spacing. They can also be used to lengthen teeth that seem out of proportion to the gums, lips or other facial features.
Veneers are among the cosmetic dental treatments most favored by Hollywood stars… as well as regular folks who want a dramatic improvement in their smile. Unlike crowns (caps), which generally require extensive reshaping of the tooth, standard veneers require the removal of just fractions of a millimeter of tooth surface. That makes them a minimally invasive method of smile enhancement that can make a big difference in your appearance. In fact, veneers are often a major part of a complete "smile makeover."
Dental veneers are custom made in a laboratory from a mold of your teeth. They are designed to fit your teeth perfectly — and to be just the shade you want. When you come in for a consultation, we will discuss what you like and don't like about your smile, and how we might improve it. Will you opt to get the brilliant "red-carpet" smile you always wished for… or go for a subtle, more natural tooth color? Only you can decide.
Howard Stern's veneers may be the most restrained thing about him… but we're just glad that veneers helped him get the kind of smile he wanted. You can, too. If you would like more information on dental veneers, please contact us or schedule an appointment for a consultation. You can learn more about this topic in the Dear Doctor magazine articles "Porcelain Veneers" and "Porcelain Crowns & Veneers."
By Warren Gase, D.D.S.
January 08, 2014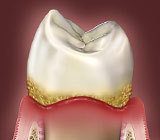 Periodontal (gum) diseases like gingivitis (inflammation of the gum tissues) can exist in a chronic form for some time, while gradually worsening. But given the right conditions, gingivitis could elevate quickly into an acute, painful condition known as Acute Necrotizing Ulcerative Gingivitis (ANUG). While it can be effectively treated, it's important to diagnose ANUG early and begin treatment as soon as possible.
ANUG is also known as "trench mouth" as it was commonly recognized among soldiers in the trenches during World War I. Its name describes it as "necrotizing" and "ulcerative," because when left untreated it kills ("necrotizes") soft gum tissue, particularly the triangular tissue between teeth known as papillae, and causes severe and painful sores. A person with ANUG may also exhibit very bad breath and taste, with an odor peculiar to the disease. It's believed that acute stress, poor nutrition and a lack of sleep can trigger the condition in individuals with pre-existing gingivitis.
As with other forms of gum disease, the first priority of treatment is to alleviate the symptoms. Besides initial cleaning (also known as scaling), we would also prescribe antibiotics (particularly Metronidazole, which is effective against the specific bacteria responsible for ANUG), an antibacterial mouthrinse like chlorhexidine, and a mild saline rinse. We would also control pain and inflammation with non-steroidal anti-inflammatory drugs like aspirin or ibuprofen.
As the symptoms come under control, it's then necessary to treat the underlying gingivitis by continuing the thorough cleaning of the affected surfaces, including the roots, of as much plaque and tartar as possible. Good oral hygiene with semi-annual professional cleanings must become regular habits to inhibit future reoccurrences of the disease. Quitting smoking, eating a healthy diet and managing stress are also advisable.
Without treatment, ANUG symptoms will persist; you could eventually lose the affected papillae, and experience other detrimental effects to other periodontal tissue and bone structures. If you suspect you may have gingivitis or this acute form, you should visit us as soon as possible for a full evaluation and treatment. The earlier we diagnose and treat gum disease, the better your long-term outlook.
If you would like more information on painful gums, please contact us or schedule an appointment for a consultation. You can also learn more about this topic by reading the Dear Doctor magazine article "Painful Gums in Teens and Adults."