Cosmetic Dentist Blog
Posts for: December, 2013
By Warren Gase, D.D.S.
December 24, 2013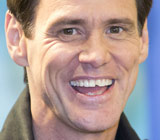 Fans of the classic bumbling-buddies comic film "Dumb and Dumber" will surely remember the chipped front tooth that Jim Carrey sported as simpleminded former limo driver Lloyd Christmas. Carrey reportedly came up with the idea for this look when considering ways to make his character appear more "deranged." He didn't need help from the make-up department, however… He simply had his dentist remove the dental bonding material on his left front tooth to reveal the chip he sustained in grade school!
Creating a Bond
A dental cosmetic bonding involves application of a composite filling material that our office can color and shape to match the original tooth. Bonding material can be used to replace the lost portion of tooth or to seamlessly reattach the lost portion if it has been preserved and is otherwise undamaged. Little to no removal of existing tooth surface is needed. This is the quickest and lowest-cost option to repair a chip.
Alternatives
When a relatively large portion of the tooth is missing, a crown is often the better choice. It fully encases the visible portion of the remaining tooth above the gum line and is shaped and sized to match the original. It can be made of tooth-colored porcelain fused to metal crowns or all-ceramic (optimal for highly visible areas). A small amount of the existing tooth surface will be removed to allow the crown to fit over it.
A veneer can be used to hide smaller areas of missing tooth. This is a thin, custom-made shell placed on the front of the tooth to give it a new "face." Some removal of existing tooth surface also may be necessary to fit a veneer.
A chipped tooth makes an impression, but generally not a flattering one. Nearly 20 years after "Dumb and Dumber" hit the theaters, the only thing Jim Carrey had to do recently to hint at a sequel for his nitwitted character was tweet a photo of that goofy grin!
If you would like more information about repairing a chipped tooth, please contact us or schedule an appointment for a consultation. You can also learn more about this topic by reading the Dear Doctor magazine article "Artistic Repair of Front Teeth With Composite Resin."
By Warren Gase, D.D.S.
December 10, 2013
Are you unhappy with the appearance of your smile? Do you get anxious about smiling in social settings? Have you ever wished you had teeth like your favorite celebrity? If you have answered yes to any of these questions it might be time to discuss a smile makeover with us!
During our initial meeting we will ask you exactly what look you are hoping to achieve. Open communication will help ensure ultimate success and satisfaction — you need to tell us what you want and we need to tell you what is actually possible. Then we can plan a solution that is both aesthetically pleasing and functional.
We will also decide which cosmetic materials and techniques to use; this can range from composite resins (tooth-colored fillings), porcelain veneers (thin layers of dental ceramic that are bonded to your tooth enamel) or porcelain crowns (which replace the entire external form of a tooth).
Essentially, most people seem to want one of two looks — a "perfect" Hollywood smile or a more "natural" look. For those who want a "perfect" smile, we will focus on achieving symmetry so that your smile appears perfectly balanced. We will also focus on achieving uniform and maximum tooth brightness and whiteness.
For those who want a more "natural" smile, we can enhance your smile by gently improving brightness while maintaining a more normal symmetry to each tooth shape and size. This can produce a more elegant, youthful smile, not just a Hollywood white smile. We can also maintain slight color, shape and shade variations throughout your mouth.
The best tool for testing our vision is with the use of a tool we call a "provisional restoration." During this phase of the process we will actually create your new smile using temporary materials, allowing you to "test drive" your new look before committing to permanent materials. This way we can make sure you get exactly what you want. Once you give us the green light, these restorations will be replaced with your permanent new teeth.
Call our office today so we can get started! For more information on the importance of communication between dentist and patient during a smile makeover, read the Dear Doctor magazine article "Great Expectations: Is What You Get What You Want?"