Cosmetic Dentist Blog
Posts for: November, 2013
By Warren Gase, D.D.S.
November 25, 2013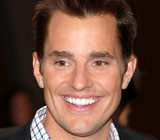 Can having a great smile help land you a high-level business position, a TV show, and a bride? Maybe — at least if you go by the example of Bill Rancic.
The 42-year-old Chicago native is well known as the first winner of NBC-TV's The Apprentice, a reality show where contestants vied for a job with Donald Trump's organization. Shortly after his selection as Trump's newest hire, Rancic met his future wife, Giuliana, when she interviewed him for E! News. Flash forward a few years, and the couple is now hosting their own reality TV show on Style network.
So how much has Bill's winning smile helped?
"I think a great smile says a lot about a person — especially in our professions," Bill recently said in an interview with Dear Doctor magazine. He also mentioned that having a few cosmetic dental treatments helped him close the deal.
As a child, Bill wore braces to correct an overbite. For both kids and adults, orthodontic treatment is often the first step toward getting the smile of your dreams. The practice of orthodontics has changed dramatically in the past 20 years and there are now a number of choices available in lieu of traditional metal braces.
Not Your Father's Braces
For those who need to maintain a "professional" image, tooth-colored braces offer a less noticeable way to straighten your teeth. Lingual braces are another option that's suitable in some situations. These are truly invisible: bonded on the tongue side of the teeth, they can't be seen from the front.
Or, you may be able to forego braces altogether and use a series of clear plastic aligners to gradually bring your teeth into alignment. Not only are these difficult to notice, but they can be completely removed for short periods of time — at important board meetings, for example.
Red-Carpet Tooth Whitening
More recently, Rancic had tooth whitening treatments. Depending on the degree of lightening needed, these can range from custom-fitted bleaching trays that you wear at home under the supervision of a dentist, to in-office whitening treatments that work in far less time. Both can be effective in lightening your teeth by six shades or more.
But if you need the ultimate in whitening, veneers may be the best option. These are fingernail-thin coatings, made of pearly-white porcelain or composite material, that are placed directly on the tooth surfaces. Realistic and durable, they can provide a "Hollywood white" smile that's ready for the red carpet.
Did Bill's cosmetic dental work really improve his life? We can't say for sure — but as his wife Giuliana recently told Dear Doctor, "First impressions are very important, and having a beautiful smile will help anyone make a great impact on others." So perhaps it worked on her!
If you would like more information on how cosmetic dental treatments can improve your smile, please contact us or schedule an appointment for a consultation. You can learn more about this topic in the Dear Doctor magazine articles "The Magic of Orthodontics" and "Important Teeth Whitening Questions Answered."
By Warren Gase, D.D.S.
November 15, 2013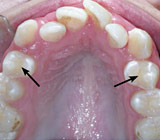 Not only can orthodontic treatment transform your smile, it can also restore function to your teeth and mouth that will improve both your oral and general health. But any treatment to straighten misaligned teeth requires careful planning. Depending on the exact nature of your misalignment, there may be some additional steps we would need to perform before undertaking orthodontic treatment.
One common need is space to help relieve overcrowding. To make room for tooth movement, often a tooth may need to be removed if the crowding is excessive. The most likely candidates are the first bicuspids, teeth located between the cuspids (or eyeteeth, located in line under the eyes) and the second premolar located in front of the molar teeth. The removal of these first premolars won't have a great effect on future form or function. Under the gentle pressure exerted by the braces, neighboring teeth will move and fill in the open space. Today's orthodontist goes to great lengths to avoid removing any teeth; in severe overcrowding, though, this is an acceptable way to create needed space.
Damaged teeth in need of replacement may also be removed before orthodontics and certainly more desirable — if any tooth needed to be removed, you would always choose a damaged tooth first. The object is to first preserve the underlying bone and close the space to avoid replacing that tooth or, if not possible, maintain the correct amount of space for any future restoration.
As living tissue, bone constantly reshapes in response to its environment. If it no longer senses a tooth (or the forces exerted by a tooth when biting or chewing), the bone will slowly disappear through a process known as bone resorption. To counteract this process, we may graft material (like processed donor bone) into the socket to encourage and maintain bone growth. This creates a platform for future tooth replacements like implants or bridgework after orthodontic treatment.
After orthodontics, it may also be necessary to install some type of "placeholder" (temporary bridgework or partial denture) in the area of missing teeth. Keeping the teeth from migrating into the space will improve the chances that any permanent restoration like an implant or fixed bridgework will look natural — as if it belonged there the entire time.
A complete dental examination will indicate whether any teeth need to be removed before undergoing orthodontic treatment. If necessary, taking this strategic step will help ensure we achieve the best result — a winning smile.
If you would like more information on tooth removal and other options to enhance orthodontics, please contact us or schedule an appointment for a consultation. You can also learn more about this topic by reading the Dear Doctor magazine article "Tooth Removal for Orthodontic Reasons."