Cosmetic Dentist Blog
Posts for: July, 2013
By Warren Gase, D.D.S.
July 30, 2013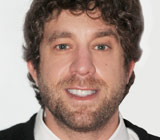 One day, while looking at old pictures of himself, 34-year-old American Idol finalist Elliott Yamin noticed something peculiar. "I [had] figured out how to kind of smile without displaying all my teeth," he told an interviewer with People magazine. The reason: Yamin (like many other people) was unhappy with the way his teeth looked. And others noticed it too: "[They] wrote things in magazines, called me Snaggletooth and things like that," he said.
Yamin's situation came to the attention of dentists from across the country, several of whom offered to fix his crossbite and other problems. One of them even provided the singer with computer-generated renderings of how he'd look after a total "smile makeover" — and that was enough to convince him. Finally, after receiving a set of porcelain veneers and other dental work — all provided free of charge by the concerned dentist — Yamin has the smile he always dreamed of.
You don't have to be an American Idol finalist to appreciate the benefit of having a super smile — and it's never too late to get started! As Yamin found out, a "smile analysis" is the first step, and it's a critical part of the process. This is the time when you and your dentist get to know each other, and begin talking about what kind of a look you want to achieve, and what you should realistically expect.
But it can be tough to express in words exactly what your idea of a perfect smile looks like. Are the teeth completely regular in alignment and "Hollywood white?" A little bit asymmetrical and more natural-looking — or something in between? And exactly how would that look on you? Fortunately, we have a variety of ways to help you make those decisions.
One is computer-generated images, like the ones that persuaded Yamin. Convenient and relatively easy to produce, they're a great way to preview possible changes before a single tooth is touched. However, some people may find it hard to picture their new smile from different angles and in different lights. If you'd like a better representation, it's possible to produce a 3-D model of the proposed work before it's done. This can let you truly visualize your new smile in a realistic way.
If you need even more evidence before deciding, there's still more that can be done. Your teeth can be built up to their new contours with composite resin, a tooth-colored restoration material that can change tooth shape and size with relative ease. A related procedure, the "provisional restoration," gives you a complete preview of the final work. When you're satisfied, the "temporary" materials are replaced with more permanent ones, like long-lasting porcelain veneers. Whichever method you choose, you'll be on your way to a better looking smile.
If you would like more information about a smile makeover, please contact us or schedule an appointment for a consultation. You can also learn more by reading the Dear Doctor magazine articles "Great Expectations — Perceptions in Smile Design" and "Smile Design Enhanced with Porcelain Veneers."
By Warren Gase, D.D.S.
July 15, 2013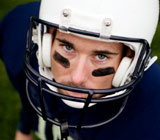 Are you ready to suit up for sports? Mouthguards have been called the most important part of an athlete's uniform. Designed to absorb and distribute the forces of impact received while you participate in athletic activities, your mouthguard is a protective appliance that covers and cushions your teeth and gums to prevent and reduce injury to your teeth, jaws, lips and gums. A properly fitted protective mouthguard is comfortable, resilient, tear resistant, odorless, tasteless, not bulky, fits well, and has sufficient thickness where needed. If you wear it when engaging in contact sports it can prevent injury, pain, suffering and years of expensive dental treatment.
Here's why athletes need mouthguards:
Sports related dental injuries account for more than 600,000 emergency room visits each year. Mouthguards are recommended particularly for contact sports such as boxing, football, hockey and lacrosse.
An athlete is 60 times more likely to suffer harm to the teeth when not wearing a mouthguard. It is estimated that mouthguards prevent more than 200,000 injuries each year.
Properly fitted mouthguards protect the soft tissues of the lips, cheeks, gums and tongue by covering the sharp surfaces of the teeth that can cause lacerations on impact. They also reduce the potential for tooth injury, jaw damage or jaw joint fracture and displacement by cushioning against impact — absorbing and distributing the forces that can cause injury.
Custom-fitted mouthguards are made from exact and precise models of your teeth. They are effective, comfortable, easy to clean, and do not restrict breathing. The best mouthguard is custom designed to fit your mouth and made in our office after your athletic needs have been assessed. For a growing child or adolescent, a custom made mouthguard can provide space for growing teeth and jaws.
A mouthguard properly fitted in our office costs little in comparison to the cost of treatment after injury. If your teeth are knocked out and are not properly preserved or replanted you may face lifetime dental costs of as much as $10,000 to $20,000 per tooth.
The American Dental Association recommends the use of custom mouthguards in 27 sports/exercise activities. Make an appointment to consult with us to find out more about mouthguards. You can also read the Dear Doctor magazine article "Athletic Mouthguards: One of the most important parts of any uniform!"