Cosmetic Dentist Blog
Posts for: April, 2013
By Warren Gase, D.D.S.
April 20, 2013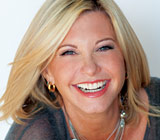 Olivia Newton-John, now in her early 60's, is still a fresh-faced picture of health — with a radiant smile to match. How does she do it? She does it with healthy habits learned from her German-born mother, Irene.
"I love greens, and as many organic vegetables as possible," Olivia recently told Dear Doctor magazine. "From spinach to salads to beets — pretty much any and all greens!"
Olivia credits her mom with instilling her lifelong love of healthy foods. Irene used dark bread rather than white bread for sandwiches and even made her own yogurt — which she used as a topping on baked fruit for dessert.
"Growing up, my mum really taught us some great eating habits," Olivia told the magazine. "When I was a girl in school, all of my friends would have cakes and cookies and fun foods but my mum was all about teaching us to eat healthy foods and to be very aware of what we were putting into our bodies. At the time I was annoyed about it, but looking back now I thank her for teaching me at an early age to eat healthily."
Irene paid particular attention to her children's oral health. "My mum always made us brush and floss after every meal so, once again, like the foods we ate, she taught us early about the importance of great dental hygiene," said Olivia, who has an older brother and sister.
As a mom herself, Olivia passed those healthy habits down to her daughter, Chloe.
"I always insisted on regular dental checkups and limited sugar, especially in soft drinks — they were never in our fridge," she said.
Parents do play an important role in developing healthy oral habits from the very beginning, starting with proper tooth-brushing techniques. By age 2, a brushing routine should be established using a smear of fluoride toothpaste. For older toddlers, parents can use a child's size soft toothbrush with water and a pea-sized amount of fluoride toothpaste. Children need help brushing until at least age 6, when they can generally take over brushing by themselves and also learn to floss.
The point of a good daily oral hygiene routine is to remove the film of bacteria that collects daily along the gum line, and in the nooks and crannies of teeth. Effective daily removal of this biofilm will do more to prevent tooth decay and promote lifelong dental health than anything else.
If you would like to learn more about preventing tooth decay or teaching your child to brush and floss correctly, please contact us or schedule an appointment for a consultation. If you would like to read Dear Doctor's entire interview with Olivia Newton-John, please see "Olivia Newton-John." Dear Doctor also has more on "How to Help Your Child Develop the Best Habits for Oral Health."
By Warren Gase, D.D.S.
April 04, 2013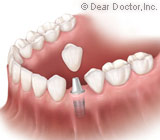 Perhaps you've heard about dental implant surgery — or maybe you've been told you are a candidate for the procedure. You may already know that today, implants are the "gold standard" of tooth replacement options. It's no wonder why: They have a documented success rate of over 95%, and can last a lifetime. But if you're put off by the thought of implant surgery, then it may be reassuring to learn the following five facts.
1. The entire implant process is planned before surgery is done.
This usually involves taking radiographs (X-rays), and sometimes CT scans, as precision guides to implant placement. Before the minor surgical procedure begins, we have already examined the bite and the bone structure, and determined exactly where the implant will fit in. There should be no surprises during the surgery — which is only one phase of the implant process.
2. Implant surgery uses the highest-quality materials and state-of-the-art techniques.
The implant itself is fabricated of commercially pure titanium, or a titanium alloy. This metal has a unique property — it's capable of osseo-integration, which means it can actually fuse with bone. During the implant procedure, the bone is handled with utmost care: it's gently prepared to receive the implant, and cooled with water to prevent tissue damage. If you don't have enough of your own bone tissue to support an implant, it has even become routine to restore bone with grafting techniques.
3. The surgical procedure itself is generally painless.
Almost all implants are placed using local anesthesia — typically, a numbing shot. If you're especially anxious about the procedure, it's possible to be given sedatives or anti-anxiety medications beforehand. Of course, we will make sure you don't feel any pain before we begin! Some mild vibration is generally all that you may experience during the procedure, but it's very rarely a cause for concern.
4. There is little discomfort following the procedure.
On the day of surgery and perhaps the day after, a non-steroidal anti-inflammatory medication (NSAID) of the aspirin or ibuprofen family is usually all that's needed to control minor discomfort. You may also be given a prescription for antibiotics and/or a mouth rinse to aid healing.
5. The result: Natural-looking teeth that can last a lifetime.
Implants have become dentistry's premier option for replacing missing teeth. Their placement involves minimally-invasive techniques, and has a success rate higher than any other tooth replacement system. And, given proper care, they can last for the rest of your life. Could you ask for more?
If you have questions about dental implant surgery, please contact us or schedule an appointment for a consultation. You can learn more in the Dear Doctor magazine articles "Dental Implant Surgery" and "Dental Implants."