Cosmetic Dentist Blog
Posts for: September, 2012
By Warren Gase, D.D.S.
September 26, 2012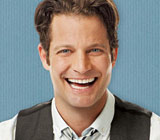 Design expert and television celebrity Nate Berkus has definite ideas about how to live. In a recent interview, he explained his ideas on design. He also talked about health, and how he keeps his teeth and mouth healthy.
From an initial design makeover that he did eight years ago on the Oprah Winfrey Show, Berkus has gone on to do 127 such makeovers. He was such a success that he now hosts his own daily talk show. He has also developed a line of home products for the Home Shopping Network and has his own design firm, Nate Berkus Associates. His clients include well-known restaurants and hotels as well as private homes. He has written articles for O Magazine and authored a book on the subject of transforming your home into a place you love.
"I realized many years ago that I wasn't going on Oprah to pick sofa colors and paint chips. I was there to lift people up through the way they live," he says. His secret to design success is to "go with what you love." He says, "Don't worry about mixing metals, eras or styles. If you love each item, you'll find a way to make it work."
His common sense practical attitude continues when it comes to dental health. Berkus is blessed with a healthy mouth and teeth. He doesn't feel anxious when visiting the dentist because he usually has a good report. He has not needed orthodontics or cosmetic dentistry. He thanks his childhood dentist for giving him fluoride treatments and sealants, and for teaching him healthy dental hygiene habits.
Berkus brushes his teeth twice or even three times a day, with a manual or electric toothbrush — depending on whether he is at home or traveling. He also follows his dentist's advice about flossing: "Floss the ones you want to keep!" He says that he tried tooth whitening once, but he felt that the whiteness was "too white." Now he simply works to maintain his natural tooth color and smile.
Contact us today to schedule an appointment to discuss your questions about maintaining healthy teeth. You can also learn more by reading the Dear Doctor magazine article "Nate Berkus, Helping Others Love the Way They Live."
By Warren Gase, D.D.S.
September 10, 2012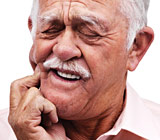 If you have ever suffered from tooth sensitivity, you know all too well how real the pain can be — anything from a slight twinge to pain that can be downright excruciating. Sensitivity may be experienced several times throughout the day or just every once in a while. However, as we say, a little knowledge can go a long way. And we can provide you with the know-how and steps to help minimize your tooth sensitivity.
One of the first steps we will take is to review your brushing habits, as an improper brushing technique can not only cause tooth sensitivity, but it also can make the sensitivity worse once it is present. We will teach you how to remove dental plaque safely without damaging your delicate gum tissues, which can cause gum recession leaving the dentin exposed. Another step we may take is to provide you with a special toothpaste containing fluoride or one specifically targeted to sensitive teeth. The fluoride increases the strength of tooth surfaces and thus makes teeth more resistant to acid attack and sensitive to sweets. Or if the sensitivity is severe and/or constant, we may need to apply a barrier to cover the sensitive areas. These barriers may range from concentrated fluoride varnishes to bonded filling materials to cover the sensitive areas. If the pain is severe and constant, it may be possible that the pulpal tissue containing the nerves in your tooth are inflamed and you may need a root canal treatment to relieve your pain and save the tooth.
If you are experiencing tooth sensitivity or have questions about this condition, please contact us to schedule an appointment. Or you can learn more about this topic by reading the article "Sensitive Teeth."